In wake of the 2nd wave of COVID-19, the government of Rajasthan has revised the guidelines. To stop the spread of the coronavirus the time of night curfew has been changed from 6pm to 5 pm. it is mandatory to closed the market by 5 pm. Revised guidelines will cover entire Rajasthan including rural and urban areas. It will be effective from 16th April.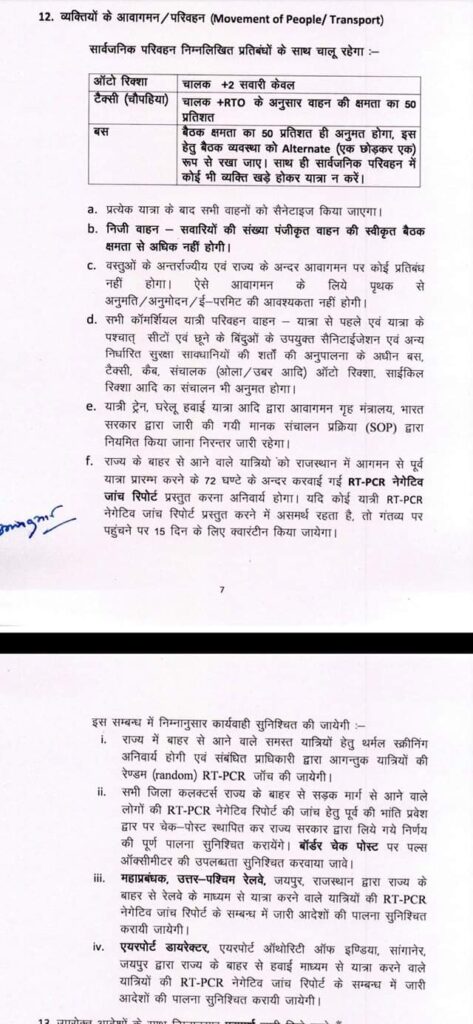 The revised guidelines are mentioned below:

The time of night curfew will be from 6pm to 5 am.
Government workplaces will be shut down at 4pm.
10th and 12th board exams have been shifted in Rajasthan.
Only 20 individuals will be permitted to attend the funeral.
Home delivery and take away allowed till 8pm.
Clubs and Restaurants will open with half capacity only.
50% capacity will be permitted in public transportation.
It is mandatory to close the market till 5pm.
Library, coaching and educational institute will be shut down till further notice.
Theaters, swimming pools, amusement parks and gyms will remain closed.
It is allowed to provide in house services in hotels.
Only 50 people are allowed to attend the functions or ceremonies including marriage.
All political, educational, sports, cultural, social, processions, religious ceremonies, entertainment will not be permitted.
Randomly RTPCR check of passengers coming from outside will be done.
If the report is not provided then it will be quarantine for fifteen days.
Passengers who are coming from outside in the state will have to provide the RTPCR report done within 72 hours before the journey.
Only 50% staff members are allowed to come to office premises with a capacity of more than hundred individuals. Remaining people are allowed to do work from home. Emergency services are exempted from this rule.
.