Laxmi Mishthan Bhandar, also popularly known as LMB is the oldest sweet shop, and one of the oldest restaurants and hotels in the Pink City Jaipur (since 1727). LMB, for the last astounding 290 years, have been crafting traditional Indian sweets with a vision to provide the taste of purity to royals to common people, from the locals to around the world maintaining the idealistic Indian taste.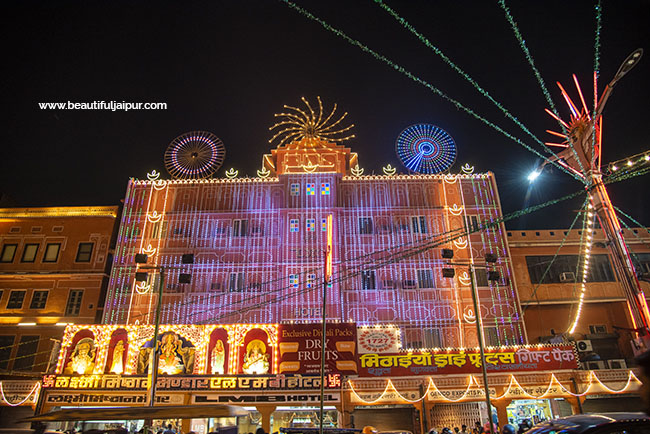 The reach of LMB's sweets, namkeens and snacks are proof of the quality and taste they have maintained for all these years. Even people sitting thousands of miles away are in awe of the taste served here who just once in their life have ever visited this place. LMB has been Jaipur's pride and has brought glory to this beautiful city with its serving.
With its spread throughout the globe, it has impressed and made a vast cover its fan, which is only possible by creating a unique brand and has established itself a huge name in sweets, namkeens, chats and traditional Rajasthani delicacies. It serves over 250 kinds of sweet, namkeens, pickles, bakery items and syrups. They are also known for their world-famous inventions like Paneer Ghewar and Doodh Pheeni, that have captured the hearts of millions since forever!
LMB has its original branch situated in Johri Bazaar and on public demand has recently opened its new branch in Vaishali Nagar, Jaipur. When it comes to its ambience, one will be surely amazed as it is a mix of traditional and modern themes providing one-of-a-kind experiences. LMB is completely dedicated to locals and uses best of raw materials from the best vendors while taking care of hygiene, quality and purity, therefore ending up as the most reliable sweet shop in the city. Apart from this, LMB is also dedicated to the Women empowerment which is evident from its practice of having ladies in all its departments from operational level to management roles.
To stay in the top spot in this competitive world, one has to keep on evolving with the surrounding and LMB has not left any stone unturned to do so either. They keep on customizing their products based on festivals, events and customer requirements. They curate and deliver festive and corporate gifts across India!
LMB also has a 3-star hotel, to make sure your stay in Jaipur a royal, luxurious and memorable one! Our very own traditional sweet shop is also well morderized and has started delivering it's delicacies across the country Online through www.lmbsweets.com, Amazon and Flipkart! If you're traveling to Jaipur, staying at LMB is your best pick! Book your rooms from www.hotellmb.com