In India people celebrate Diwali with excitement and enthusiastically as compare to other festivals. Amongst all the cities Jaipur is one of the places where people praise Diwali celebration. During the Festival of Lights Jaipur decorates like a bride. Tourists visit this place on the occasion of Diwali to see the beauty of pink city.
On Diwali this place is decorated, that describes its royalty and culture. People come from different parts of the country to see the beauty of Jaipur. Foreigners also attract towards its beauty so they come in bulk to see it. Hence, we have selected top 11 places where you can visit during Diwali to experience the four days and enjoy and celebrate it:-
Jal Mahal
This place is situated in the wall city zone Jaipur.  The foremost specialities of this place are trees and old sanctuaries. Along with this, it is having a tradition structure that gain attention of numerous visitors or tourists. During Diwali, it is decorated completely that is eye catchy. Every corner of this place light up at the time of Diwali with fairy lights. If any visitor wants to experience true Diwali essence then they should visit this place.
Johri bazar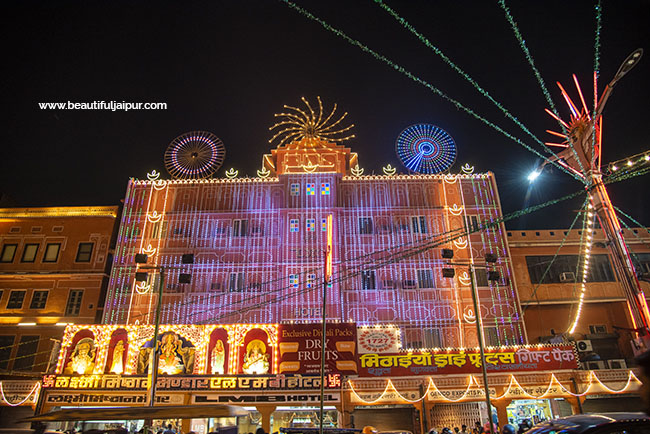 In Jaipur, Johri bazar is known as one of popular markets for jewellery. On the occasion of Dhan Teras people visit here to shop. This place is decorated completely that attract many visitors. This has been that dwelling properties and shops are decorated with many posters and props. This looks marvellous in the lights. This market gain attention of tourists as well from worldwide. The vyapar mandal of Johri bazar decorated the entire market beautifully in Diwali. People come in the market to see the lights and shop something for their own.
Nahargarh fort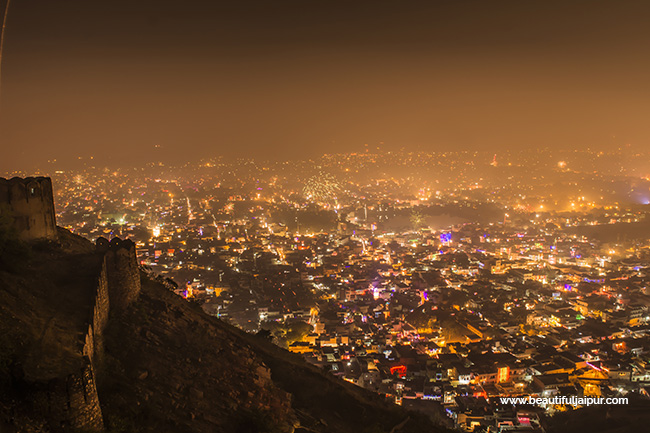 This place is considered as one of finest place in Jaipur. During Diwali this place looks extremely beautiful. People go to this place as from here they can see the beauty of entire jaipur from the top. They basically visit here in the night to see the lights and to get beautiful pictures. This can give them an ultimate experience and memorable moment for the lifetime that they can never forget.
Tonk Road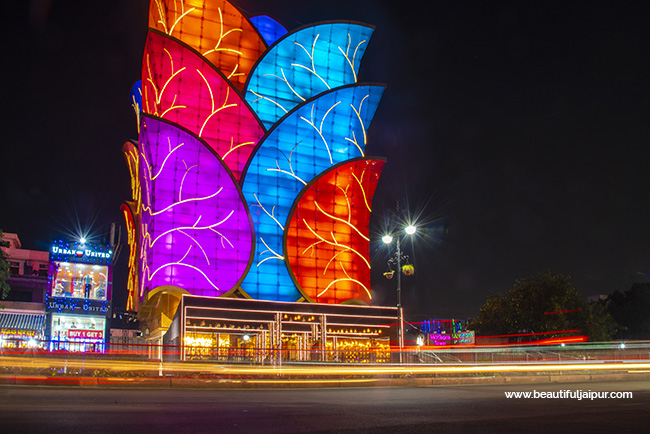 People visit Tonk road to take pictures and also to have a look of fabulous architectural designed building of one of the famous jeweller i.e. Motisons. This is vibrant and colourful too. Building of Motison lights each night but this is very special during Diwali. To believe this it is required to see it. Rather than this, entire Tonk road is decorated with different style and design.
World Trade Park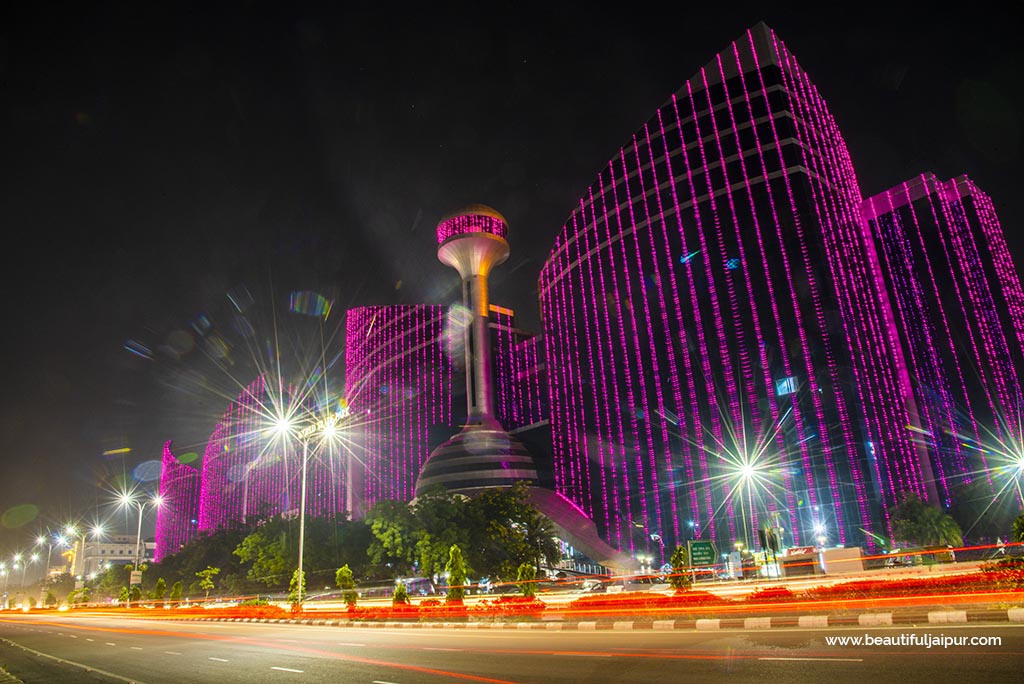 This place is considered as the heaven of Pink City. On the occasion of Diwali, WTP looks amazing as it is decorated with designs and lights. This place will surely remind you of laces, a woman with cosmetics of lights and colours as well during Diwali. People can visit and shop branded and non branded things for themselves.
Nehru and Bapu Bazar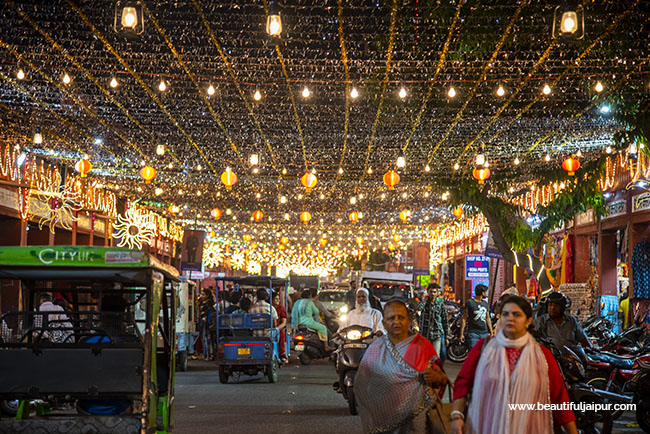 There are two markets in Jaipur that are constructed traditionally one is Nehru Bazar and another is Bapu Bazar. There are various things in these markets that can be purchase by people such as footwear. Home decor items, cloths, endowments, and many more. Shops and streets are completely decorated with lights and posters on Diwali. You can visit this place with friends and family.
M. I. Road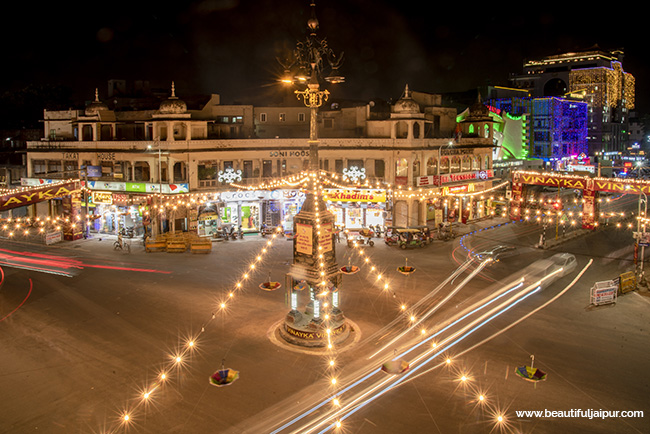 The full name of M. I. Road is Mirza Ismail Road that is one of the famous streets in Jaipur. It starts from Sanganeri gate and end up to government hostel. This place will give you the feel of Las Vegas during the time of Diwali. This place demonstrates the culture and royalty of Jaipur with magnificent lights. You can also purchase items like clothes and other essential things from here. During Diwali this place looks stunning and marvellous with decoration.
Gaurav Tower
Jaipur always welcomes Diwali enthusiastically. Gaurav tower is one of the best hang out place for visitors and locals in Jaipur. It is decorated beautifully during the Festival of Lights. Decorated shops, crackers, sparkling lights and so on can be seen here during the occasion of Diwali. People dressed up in beautiful ethnic attire can also be seen here on Diwali. Overall GT is decorated like a bride that captures attention of visitors.
Akshardham Temple
Akshardham temple is decorated with lights and props during Diwali. It is also known as mini Vrindavan. This has been seen that locals and visitors both visit the temple on Diwali to see how beautiful it looks. If you are visiting Jaipur at the time of Diwali then do not miss this place.
Statue Circle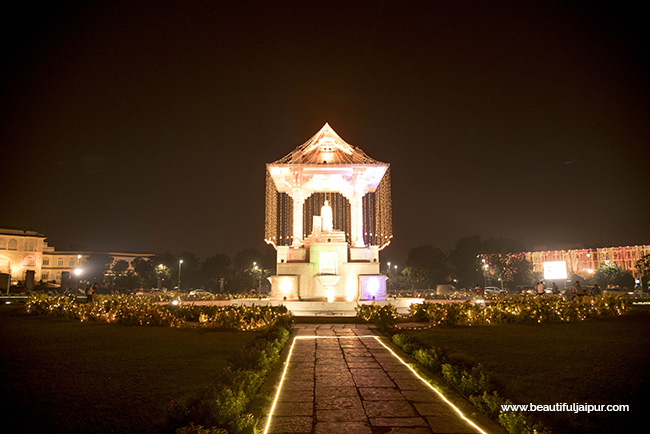 On the occasion of Diwali numerous people visit Jaipur from different cities and countries too to experience this sort of celebration.  Whole city celebrate this festival but there are some popular places that decorated amazingly for the occasion. Many building as well as monuments lit up or decorated like a bride on Diwali that attract people. Status circle is also one of the famous places that decorated on this festival. Tourists can take beautiful pictures their and also enjoy the famous coffee.
The national capital Delhi is too near to Jaipur so if any person want to take a break from their busy schedule then they can visit here. During Diwali people come from various cities or countries to see the beauty of pink city. Indian cultural style also attracts foreigners and they came here to experience the culture and to celebrate Diwali.